I had this grand idea that I was going to write about the most perfect pair of jeans, but then something happened. I caught the flu. I have chills, I have fever rushes, I cough a lot, I sneeze a lot, my head hurts, I have zero energy. Needless to say, I've spent the last four days in my pyjamas.
Today I am wearing my Space Pyjamas from Asos Curve. I had to have them after watching Peter Dinklage do his "Space Pants" skit with Gwen Stefani on SNL. Even now, just thinking about that skit, I am giggling.
"Look at my pants with the eyes in your face/my legs are covered in outer space/SPACE PANTS!"
I adore my Space Pyjamas. They are soft and cozy, which is exactly what I need when I am feeling pretty icky. My skin feels pretty sensitive due to the fever rushes, so it's nice to have pyjamas that feel cool and soft. And right now, these pyjamas are making me feel like all is right in the world, even when there is so much that is just….WRONG.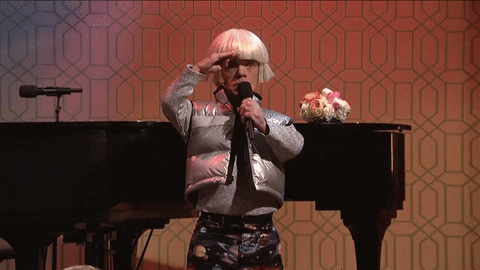 But, seriously, my favourite part of the day, even when I am feeling well, is when I come home from work and put on my loungewear (which is simply my pyjamas).  As soon as my pyjamas are on, I know I can relax, read a book, take it easy. And it usually means I am not planning on leaving the apartment for the rest of the evening. Ahhh.
So right now, when I have barely been outside the house, it's imperative that I have the coziest of pyjamas. And right now, my Space Pyjamas are fitting the bill.
Do you have a favourite pair of PJs?